OHOA Module: Understanding Communication Principles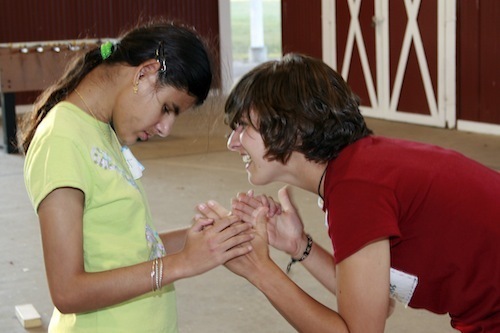 Learning Outcomes
Understand the meaning of the terms "communication form," "sensory mode," "communication function," "expressive and receptive communication."
Understand the role of the intervener as a competent communication partner for students who are deaf-blind and be able to identify strategies that encourage communication.
Discover that students with deaf-blindness always express themselves in meaningful, concrete, and purposeful ways from their deaf-blind perspective and that this expression is the starting point for communication development.
Discover that the presence of an intervener alters the intent of a student's behavior.
Use video analysis forms to gather information about a student's communication, develop insight into a student's communication, and assist other educational team members with communication assessment and IEP development.
Development Team
Bernadette Van Den Tillaart (Lead)
Lauri Triulzi
Tina Hertzog
Chris Montgomery
Caroline K. Daley
This module is available for free on our website. We invite anyone to use these materials. Please note that NCDB does not provide CEUs, certificates, or confirmation of completion.
Suggested Citation
Van den Tillaart, B., Triulzi, L., Hertzog, T., Montgomery, C., Daley, C. (2014, September, rev.). Understanding communication principles. In National Center on Deaf-Blindness, Open Hands, Open Access: Deaf-Blind Intervener Learning Modules. Monmouth, OR: National Center on Deaf-Blindness, The Research Institute at Western Oregon University.