Increasing Recognition and Use of Interveners: Illinois
A major achievement in Illinois in 2017 was the addition of interveners as a related service to state education regulations. Illinois is also one of only two states that has a teacher endorsement in deaf-blindness. Because the state lacks a training program in deaf-blindness, however, no teacher has yet received this endorsement.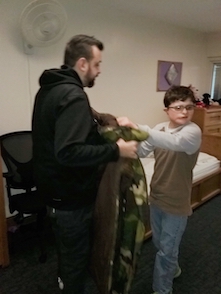 Advocacy by Families
There have been no organized advocacy efforts by families focused on legislative or regulatory processes, but some families have acted on an individual basis by advocating for intervener services to address their own children's needs or promote awareness of the practice.
For example, a parent (who is a member of the Philip Rock Center Board) and her daughter engaged in advocacy at the federal level in support of the Cogswell-Macy Act and locally for a change in placement to a less restrictive environment with intervener services as a necessary support. The student wanted to move out of the segregated VI setting where she had been placed to attend her local school. The local education agency (LEA) was supportive because it would save money and fulfill least restrictive environment requirements. The intervener was trained using modules and coaching at first, and then attended the Utah State University intervener training program. 
The state deaf-blind project has trained parents on the role of the intervener and the benefits of the service for children who are deaf-blind. It has also increased parental knowledge and supported their advocacy efforts through child-specific technical assistance, including one-on-one conversations with families and work with school teams. This has been an effective way to promote intervener services because it addresses the immediate needs of a particular child, family, and educational program.  
Advocacy by Professionals
Establishing interveners as a related service in state regulations was a systems goal outlined in the grant application for the current state deaf-blind project (Project Reach: Illinois Deaf-Blind Services). The project is located at the Philip J. Rock Center, a specialized school and outreach center operated by the Illinois State Board of Education. The Center's advisory board, also played a role.
The advocacy efforts were led by Project Reach's director using the board's annual process for adding to or amending education regulations. The steps for how this occurred were as follows:
State deaf-blind project personnel crafted a proposal recognizing interveners as a related service using language consistent with current regulations for interpreters and paraprofessionals and submitted it to the board. The Cogswell-Macy Act was used as a model and justification for the need.
The state board of education conducted internal review and editing.
The proposed regulation was disseminated for public comment, including for comments from LEAs.
The proposed regulation was edited based on feedback received during the public comment period and incorporated into the board's annual regulatory changes package (p. 67) for legislative approval.
Upon legislative approval, interveners became a related service in Illinois.
Intervener Training Systems
Illinois does not have a single system for intervener training. In the past, the state project supported six candidates to participate in the intervener training program at Utah State University. Three completed the program and two received a credential. The candidate's tuition was funded by the Philip J. Rock Center and the state deaf-blind project, as well as through an LEA. New state regulations now require tuition payments to be reimbursed and do not allow for up-front payments.
The state deaf-blind project is currently exploring potential training options including:
Training provided by the state deaf-blind project using the OHOA Modules (some intervener candidates have expressed a preference for this method)
Reimbursing individuals who complete an online intervener training program (Utah State University or Central Michigan University)
Partnering with an interpreter training program to develop a deaf-blind strand that would offer secondary path options to train as an intervener, support service provider (SSP), or vocational access service provider (a time-limited vocational support used in Illinois that is similar to an SSP, but focused on employment)
A community college training program
Teacher Training Systems
Since 2002, Illinois has had an endorsement in deaf-blindness that can be added to an existing special education certification. It is classified as a Learning Behavior Specialist (LBS2) in Deaf-Blindness (see page 91). Unfortunately, no one has yet received this endorsement.
The endorsement is associated with a standards-based test available through the state certification office. It predates the current CEC standards and is based on its own set of standards.  
Due to a lack of funding, no training program exists in the state to provide coursework leading to this endorsement and no out-of-state program has been granted a reciprocal arrangement. The deaf-blind project is currently seeking funding for an in-state program.