Increasing Recognition and Use of Interveners: Virginia
In recent years, the Virginia Project for Children and Young Adults with Deaf-Blindness (the state's deaf-blind project) has made great strides in increasing recognition and adoption of interveners in Virginia. These achievements have been the result of outreach to key state partners and the legislature, provision of training to families, and the development of a training program for educators. The state's department of education has been a strong partner by providing funding and support for these efforts.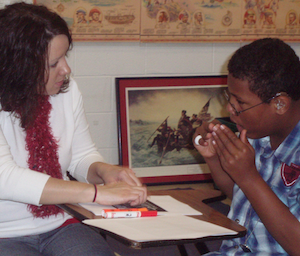 There have not been any organized professional advocacy efforts in the state to date, but some professionals who have participated in state deaf-blind project training events or have worked with interveners have advocated at IEP meetings to have individuals trained in the CEC intervener competencies designated as related service providers.
In 2005 and 2010, the state project contracted with Linda Alsop from Utah State University to provide training for parents on a variety of intervener-related topics including the role of interveners, how to determine the need for and request an intervener for one's child, and how interveners are reflected in and help carry out IEP plans. Some parents who participated successfully advocated for trained interveners for their children, although other titles such as communication assistant or teacher assistant, were sometimes used on IEPs.
Virginia's Journey to Adoption
The Virginia School for the Deaf and the Blind (VSDB) and some school districts have adopted "intervener" as a position.  
Four school districts have students with an intervener written into their IEPs. These districts work with either the state deaf-blind project or an online intervener training program based at Central Michigan University or Utah State University to provide training.
HB 1420 passed unanimously on April 3, 2013. It requires the Virginia Department of Education (VDOE) to create regulations for interveners.
VDOE included a description of the role of the intervener in their Guidelines for Working with Students Who are Blind or Visually Impaired.
Legislation
In spring 2012, the state deaf-blind project director provided information about interveners to the disability policy specialist at the Partnership for People with Disabilities, a University Center for Excellence in Developmental Disabilities (UCEDD) at Virginia Commonwealth University, where the state deaf-blind project is also housed. As a result, the state project director was invited to give a presentation about interveners to the Virginia Disability Commission, which is mandated to make legislative recommendations to the Governor and General Assembly about citizens with physical and sensory disabilities. Specifically, the commission requested an overview of the need for interveners, their role, and how they are used in states across the nation.
The state project director and the disability policy specialist developed a topical brief on interveners and shared it during the presentation to the commission in August 2012 as it was drafting recommendations for the 2013 legislative session. They also attended and shared the brief at state legislative committee meetings. Following these meetings, the disability commission recommended that the legislature require "the Board of Education to promulgate regulations defining 'intervener' as an individual with knowledge and skill in the mode of communication of a deaf-blind student and who can communicate to the deaf-blind student what is occurring in the student's educational setting." This recommendation became HB 1420, passed unanimously by the Virginia house and senate, and enacted on April 3, 2013. To date, the law has not been promulgated and must go through the state's standard regulatory process.
Training Systems
The Virginia School for the Deaf and the Blind (VSDB), which is identified as a local education agency, advertises positions for interveners and has an intervener department. All interveners hired by VSDB are required to obtain intervener training after being hired and demonstrate annual progress toward a national certificate or credential.
Although there is no certificate or endorsement for Teacher of the Deaf-Blind in Virginia, VDOE provides funding to the state deaf-blind project to offer a Professional Training Program in Deaf-Blindness (PTPDB), a free, two-year program to address the need for trained individuals to work with students who are deaf-blind.
The program, which began in 2008, first offered training on intervention strategies to teams consisting of one person serving in the role of intervener (e.g., interpreter, paraprofessional, teacher aide, or communication support) and one professional who provided direction to the intervener (e.g., classroom teacher, teacher of the visually impaired, teacher of the deaf/hard of hearing, or speech language pathologist). During the first year, participants completed a year of online coursework through Utah State University (USU), with tuition paid by VDOE, and received at least one coaching visit from state deaf-blind project staff. During the second year, they received three on-site coaching visits to support implementation and document skill competencies.  
Since 2014, Virginia Commonwealth University and VDOE no longer allow training funds to be used for tuition. State deaf-blind project staff continue to provide coaching and support to individuals who enroll in the Utah State or Central Michigan University coursework and have another means of funding or have already completed one of these programs and are engaged in a portfolio process to apply for a credential through the National Resource Center for Paraeducators. They also offer educators an option to complete the OHOA Modules as part of cohorts hosted by the project. Coaching remains a critical element of the training program. Once the National Intervener Certification E-portfolio (NICE) process became available, coaching visits expanded to support the development of an intervener's NICE portfolio.