College and Work: A New Phase of My Life
Alex Steinbrick
December 2020
---
Over the past two years, I have achieved some important milestones. I obtained a part-time job through an internship, and then, when the internship finished, started college. My work and college experiences have been both challenging and rewarding and I thought I would share my experiences with other deaf-blind young adults and their families so that it might make your own experiences easier.
The World of Work
In December 2018, I started a work study internship for a company called Haynes Group in their marketing department. They are a business that specializes in outdoor living and stone and mulch products. Tom Haynes, the owner, was very fond of me and after my internship decided to hire me as a part-time employee in the marketing department. He saw me as energetic and smart, and determined to be as good as the best employee there. Mr. Haynes is a firm believer that everyone can work and it does not matter who you are or where you came from. It has been my philosophy and I work hard to prove it.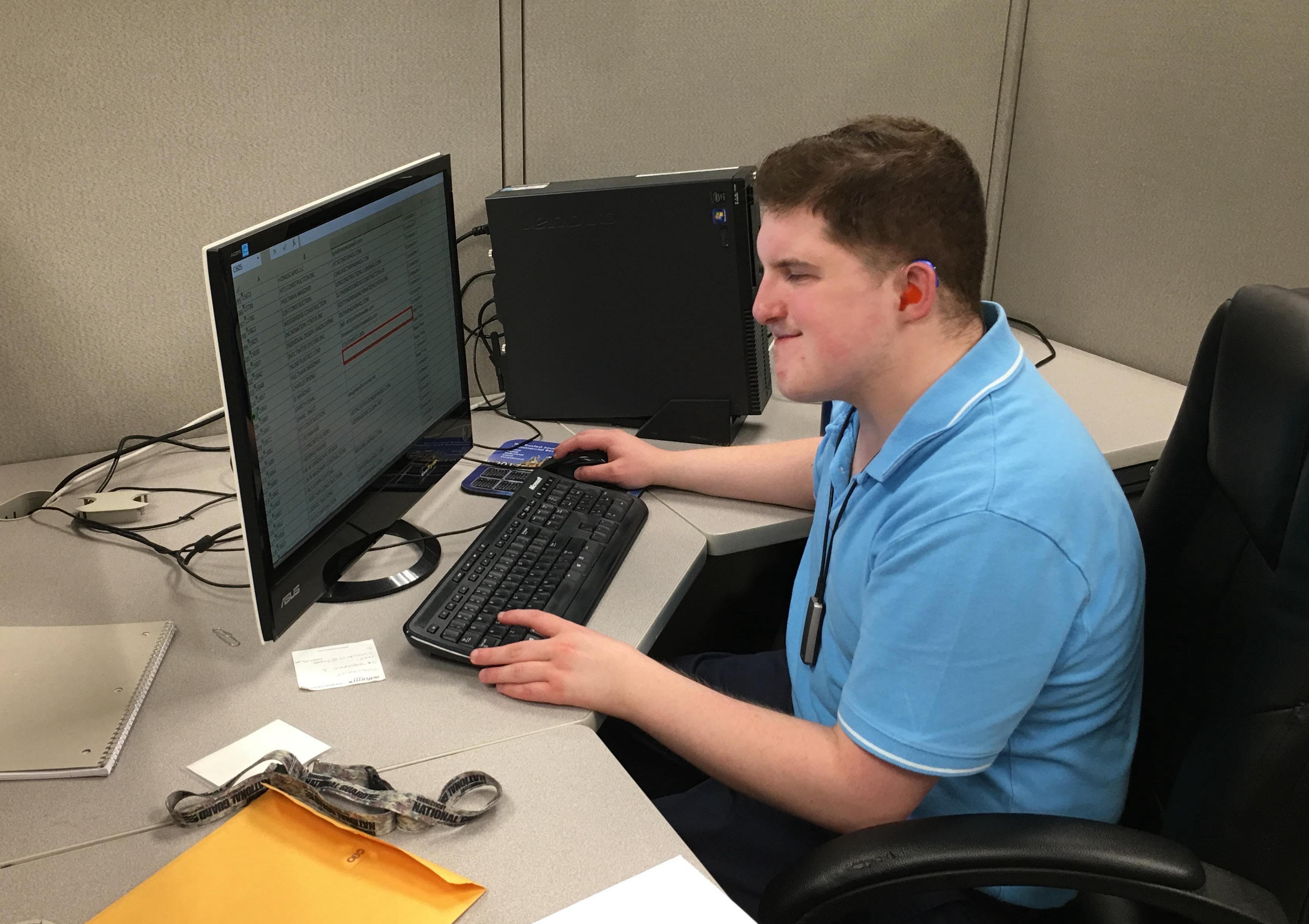 Importance of Technology
One of things you must know about yourself are your strengths and weaknesses. I recognized that I must also consider the accommodations that I need to be successful. Technology is essential to my success. The accommodations that I use are ZoomText, which is a program that enlarges text on the computer. It also allows me to change the background and foreground colors to make it easier to see contrast. I also use an FM device called a Roger Pen that streams to my hearing aids using a telecoil and a pen with three directional microphones. This device is so important to me because without it I cannot follow instructions at work, contribute to meetings, and participate in class lectures and discussions. This technology has been the game changer for me because it builds my confidence and allows others to focus on my contributions and not my disabilities.
My co-workers were all aware of my accommodations and were really cooperative in making sure to include me in every aspect of the work culture. I did not have a note taker at work. I learned how to organize myself in other ways to contribute to the company's mission.
Work Culture
My adjustment to work culture was smooth, but I believe there is more for me to learn. Working in an office gave me the ability to learn communication skills, people skills, and how to work with others. Behavior in the workplace and professionalism is something I take very seriously, such as understanding what is ethical and what is appropriate when speaking to co-workers. Through having a job coach I was able to work on my skills in a real work setting. Strategies I worked on included knowing the appropriate way to address a situation and how to properly approach a co-worker or supervisor. I was also able to have one-on-one conversations and ask questions about different tasks, working alongside my job coach and the service provider. This gave me opportunities to not only get access to the job world but develop great rapport with people in the workplace. I also had opportunities to network and have conversations with many people in the business.
Working closely with the marketing department at Haynes, helped me to gain an understanding of the business world and how it works to reach a large community of people. I spent time doing research and mingling at networking events. I gained respect not only from Mr. Haynes and my supervisor, but everyone in the office.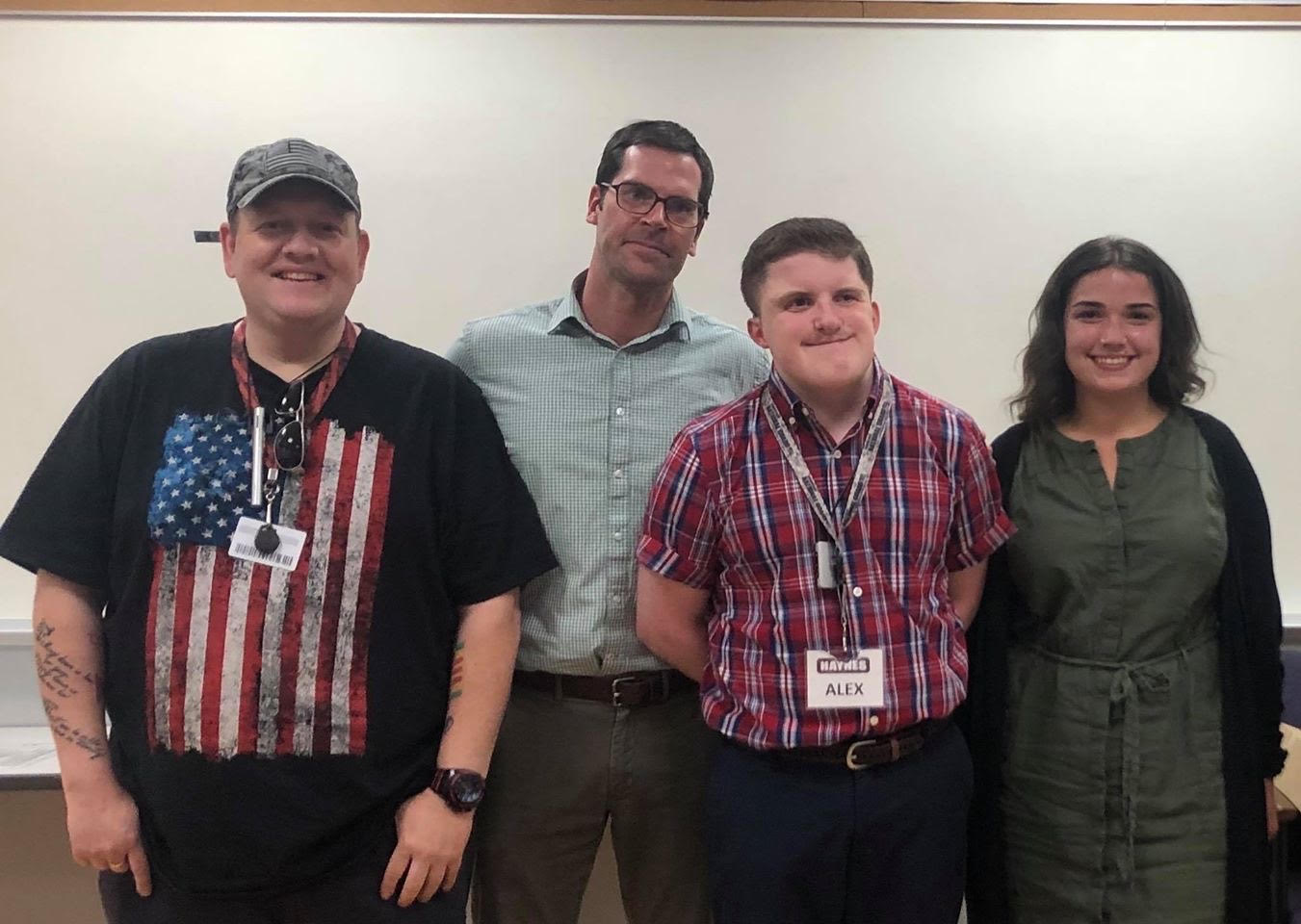 Entering College
I left my job at Haynes to start college at Post University in Connecticut in the fall of 2019. I declared my major in Sports Marketing because it has been my interest for as long as I can remember. If any of my teachers read this article, they might smile as they remember me stating this in team meetings. I learned in college that declaring a major is the easy part! I registered for five classes and knew that I would need to be organized. I wanted to do well in my classes and be involved in campus life like I had been during high school. I established a great working relationship with the disability coordinator on campus. She was essential in assisting me with educating my professors on my hearing and vision loss. I benefited from a note taker and needed to advocate for myself when this accommodation had to be tweaked if I was going to keep up with my classmates.
Relationships with Peers and Professors
In high school, I had an educational team that knew me and were engaged in every aspect of my academics. In college, I had the disability coordinator but still needed to figure out ways to engage with my college professors.
I did not have the benefit of learning from my peers. I was not deaf enough in the deaf community and not blind enough in the blind community, so I found making connections that much harder. I did not anticipate this and realized that part of being successful in college is to step out of your comfort zone and improve your social skills. This is true for disabled and non-disabled students.
I commuted every day using the local transit company, but they were rarely on time and I could not rely on the service enough to spend as much time participating in on-campus activities as I would have liked. It is a work in progress for me. I sometimes ask for friends and family to help, which has been a good Plan B.
While on campus I pushed myself to learn the college culture, but there is no formula for it. I had to participate in groups and learn to think critically, challenge my thoughts and ideas, and be open to change. I also learned to advocate for myself and educate others about my disability in natural ways from which everyone could benefit. For example, in some classes, speakers would identify themselves and that helped everyone. It has not always been perfect, but I feel better knowing that what I have learned so far will help me going into my sophomore year.
Looking Forward
My first year of college started on campus but switched to virtual classrooms due to the COVID-19 pandemic. This was a huge pivot for me, but I had appropriate technology and relationships with my professors who were great with helping me adjust. The disability coordinator was valuable to me and the professors as we all figured it out together. I made the honors program in my first year and look forward to the next challenge.
Now as I am in my sophomore year, I am in the same boat as every other matriculated student. My college is making plans for on campus study, virtual study, or both as we live through the pandemic. I look forward to the coming year and hope my experiences will help guide my fellow deaf-blind students to academic and employment success.
This is the second article that Alex has shared. In the first, published in April 2018, he wrote about his lessons to live by and the path that led him to an internship with the Boys and Girls Club.