His Best Life: A Young Man's Transition to Adulthood
Djenne-amal Morris - Malik's Mom
November 2019
---
Transition is often thought of as a process in which young adults prepare for college or a career. For families of children with disabilities, it is a lifelong endeavor in which we support our children as they progress at their own pace to meet milestones most parents take for granted. It is a process that occurs in phases from the time a child is born. 
When raising a child with special and complex needs, we are always preparing for the next skill to take them a step closer to independence. My son Malik now lives in his own home, an accomplishment I once thought was beyond both of us. How would he live without my care? How could I let him go? Looking back at the journey we have had, I am amazed at how beautifully everything worked out. Is it perfect? No. But like most people, we strive for happiness and a meaningful life. And Malik is happy living his best life!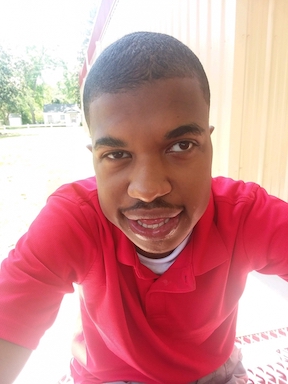 Early Life
Malik-asante Lamar Morris came into our lives 13 months after his older sister Imani and 5 years before his little sister, Zakiya. His name means "The King we are thankful for who is destined to do great things." From the day of his birth he had severe medical complications. By the time he was a year old, he'd had four major surgeries, including open heart, esophageal, gastric, and testes surgeries, and over 20 hospitalizations for respiratory, viral, and gastric infections and failure to thrive. His daily routine seemed like a never-ending blur of g-tube feedings and visits from physical, occupational, and other early intervention therapists. 
His blindness (functional vision in his right eye and light perception only in the left), from colobomas, was discovered at birth. He was diagnosed with bilateral profound deafness at a year old. We did not have a definitive diagnosis of CHARGE Syndrome until he was three years old. This was when he transitioned from early intervention at home to the Perkins School for the Blind deafblind preschool in Massachusetts, where his services were continued in an educational setting. He was given a 1:1 paraprofessional in the classroom and we hired people to assist him at home. Malik needed constant supervision by a medical professional. He could never be left unattended for fear of a sudden medical crisis. It became evident very early on that he would always need intensive medical care and 1:1 assistance.
We were fortunate to live near Perkins, so Malik was able to attend as a day student. When he was five, my husband, Michael, had a conversation with his teacher, Maura. They discussed the possibility of Malik being a border at Perkins someday. I was appalled as I listened to them. How could my fragile and medically dependent son live anywhere but under our care? I held up Malik and said, "Does he look like a border to you?" This would be the beginning of his nickname, "The Border." A joke of a name that would plot the path of his future. Who would have thought the journey to transition would begin with a car ride in New England?
Malik remained at student at Perkins for six years. Later, he did become a border—not at Perkins, but at the Eastern North Carolina School for the Deaf (ENCSD). We moved from Massachusetts to North Carolina after Malik experienced a serious illness and his doctors recommended we live somewhere with less harsh weather conditions to give his body a chance to get healthier. Leaving Perkins was an extremely difficult decision. The rapport and trust built over the years with educators who had become like family was deep.
Increasing Independence
We enrolled Malik in ENCSD in 2015 as a residential student, when he was 9 years old. I thought my heart would stop the day we dropped him off. How could anyone take care of him better than us? Eventually, he got used to going to school Sunday through Friday and spending the weekends with us. He enjoyed this independence and looked forward to school. In fact, every Sunday when it was time to be driven back to school, he would get Dad's key and sign "car" and "go" repeatedly until they left. This was the beginning of fourteen years of Malik learning to become an independent young man, acquiring skills to take him into the next phase of his life.
At ENCSD he was provided with two interveners. They were Deaf women—Krystal and Sheila—who were certified to work with the deafblind population. They were his bridge to the world academically and socially and were instrumental in his integration into the community. We were able to build the same rapport and trust with his team at ENCSD as we had at Perkins. I became very involved in the school PTO, Board of Advisors, and providing support to other families over the years.
The year Malik turned 18 we celebrated his life, but with some trepidation in ways I had not felt with his older sister Imani. At age 18, he was chronologically a man, but still had significant needs that would require all of the services he had been receiving and resources to sustain them. We knew he was eligible to stay in school until he turned 21, but we grappled with how we could collaborate with his educational team to make the next three years meaningful so he would be able to live and possibly work in an integrated community of his choice.
We began planning how to help him fulfill his dreams and desires for the future. If it was work, so be it. If it was a circle of friends and new experiences, we were prepared to advocate for them all. Malik taught us, as he continues to teach us, that it may not be the future we had planned, but it is HIS future, the one that belongs only to him. He deserves the opportunity to live a fulfilling, meaningful, and happy life. Our role as his family at the time was to network and advocate for those things within the adult services world. A world that is based upon eligibility and not entitlement.
The next four years was spent gathering information to help Malik prepare for life after graduation. He stayed at ENCSD until he was 22. As with our other children, we hoped he would move out of the house after graduation and live his own life. But, how would this be possible? Who would take care of him?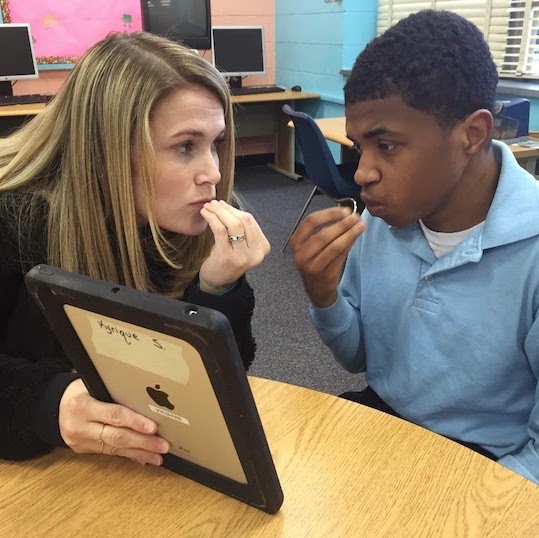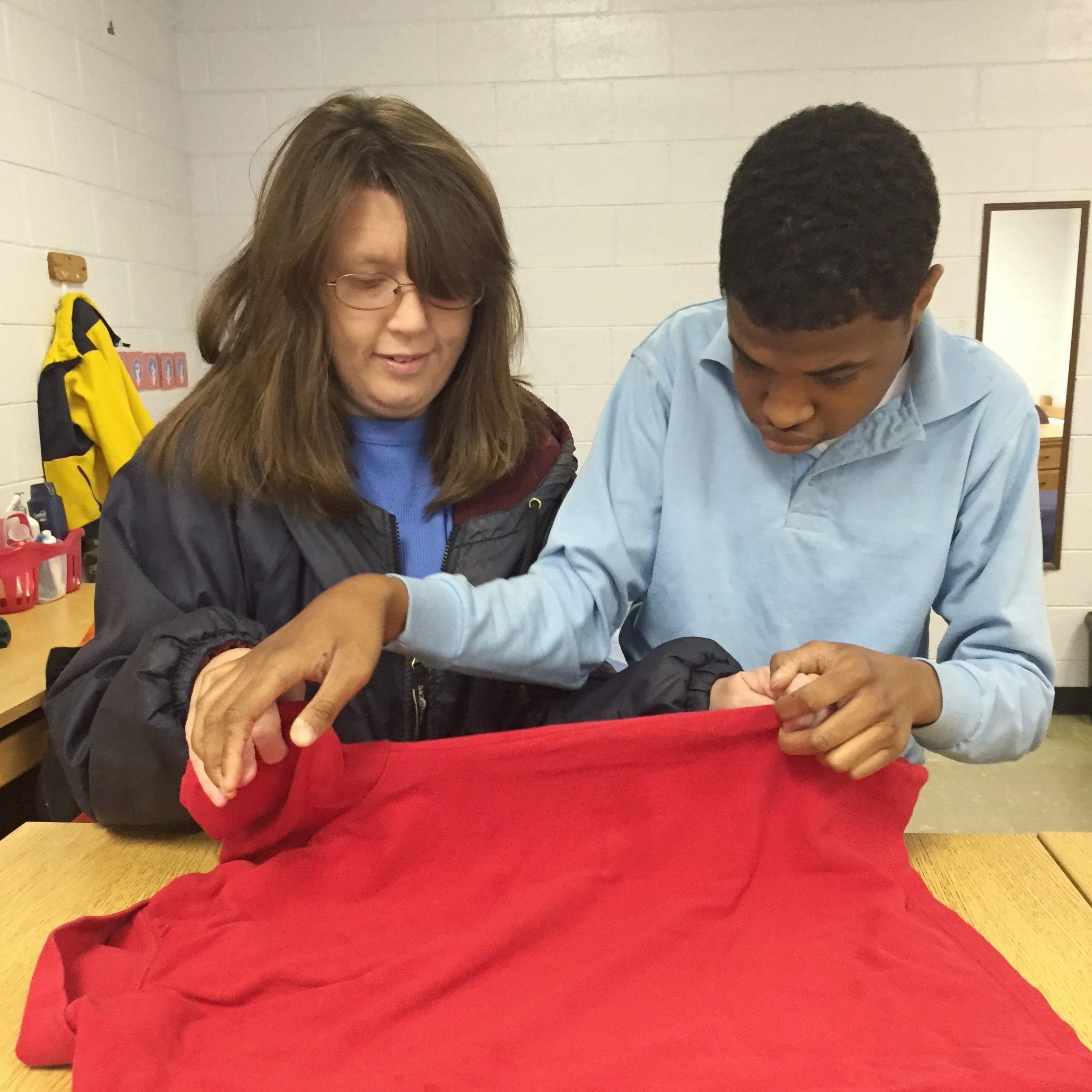 Preparing for Adult Life
My biggest fear was that the day after his June 7th graduation he would have to come home with some sort of day habilitation plan, with an endless juggling of habilitation workers coming and going and evenings of chasing him around after a hard day's work. Knowing how much Malik loved to return to school every Sunday, I knew he somehow desired continued independence. How could I help orchestrate conditions to allow him to live his best life?
His best life. As I said earlier, HIS life, not the life I had been planning for him for 18-plus years. Around that time, our family participated in a person-centered planning (PCP) session lead by a specialist from Eastern North Carolina University's deafblind program. This was an opportunity for Malik's village to come together in a joint effort to tease out his strengths, challenges, dreams, and hopes, and begin to develop a course of action towards independence. Malik could not communicate his future goals to us in a traditional manner, but the PCP provided a clearer picture of how to incorporate his desires into a plan for his future in his own words, so to speak. It enabled us to develop opportunities at school and home to enhance his skills related to work he enjoyed and identified the community of support he would need to achieve his goals.
Using this information, I began researching services might be the best fit for Malik. I explored, interviewed, and visited hospital type settings, alternative family living homes, and group homes. We thought of building our own group home but were honestly too exhausted and lacked the resources to take on that challenge.
This was to be a very different experience than sending him to college. When I prepared to send Imani to college, we packed her up, took her to school, and trusted she would contact us when necessary. Malik's experience would be a different story. He was still vulnerable, medically and physically. There was also the slight concern that he might not understand this new transition and have adjustment challenges, and he did not have the capacity to contact me if there was a need.
He deserved to have a place to live where the staff was attentive 24 hours, where he could communicate in his language, learn independent living skills, make friends, work, be happy, and be surrounded by people who believed in him and pushed him to be his best. It wasn't about just finding him a placement; Malik needed a home.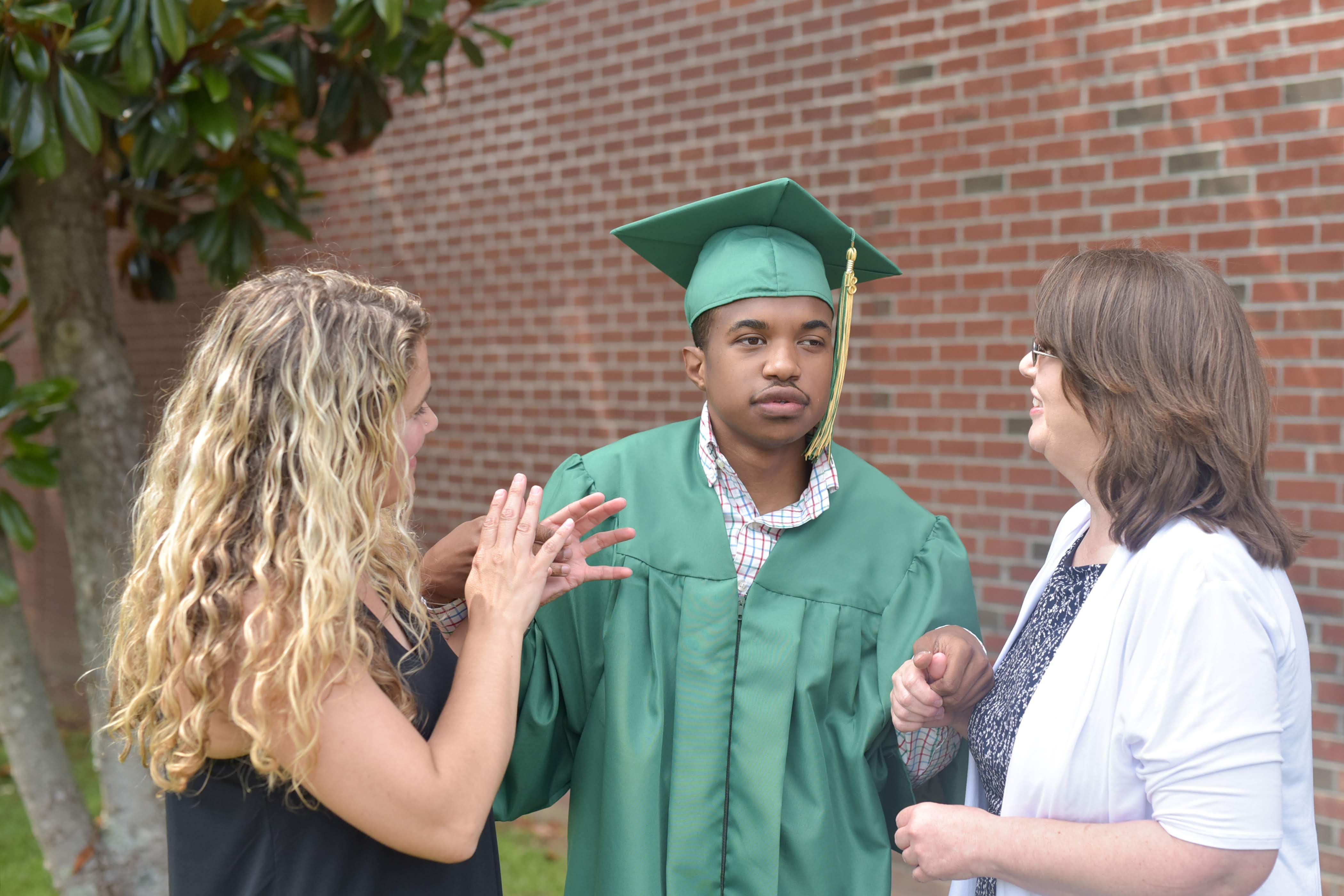 Independent Living Home
In Spring 2017, we were presented with an opportunity to have Malik be part of a pioneer project. Darrin McNeil, owner of Serenity Therapeutic Services, Inc., opened a new independent living home targeted to meet the needs of young men who are Deaf and have other disabilities. Malik was to be its first resident. The staff was both Deaf and hearing. Serenity also has a day program where he could go to advance his skills. This was the beginning of a dream come true. We finally had post-graduation plans for The Border! In fact, we decided to have Malik move into the house before graduation. Now we needed a transition plan.
For a month, Malik visited the home on weekends to get to know the staff. He brought things from home and school to help set up his room. In the meantime, we met with the staff to give them an overview of caring for a young adult with CHARGE syndrome and discussed Malik's plan and goals. On moving day, I felt a mix of emotions. I was excited and scared and had more questions than answers. How would he adjust to his new home? How would we as his parents adapt to the new world of adult services with a new set of professionals who were responsible for making the types of decisions that we had made for the past 22 years? 
Transitioning to adult services was initially very challenging in several aspects. I had to establish a new team of medical professionals at UNC Hospital that served the adult population and understood how to treat a person with complex medical needs. We went from doctors who had served Malik for the past 15 years to a cadre of new ones. This was a crucial detail because I would no longer be the primary person accompanying Malik to appointments. He would now be going to doctor and hospital visits with the Serenity staff, not me. In addition, it was necessary to educate and train a whole new staff on his medical and behavioral needs and nuances. Determining a collaborative medical protocol was of the utmost importance. I had to, once again, put my trust and my son in the hands of others.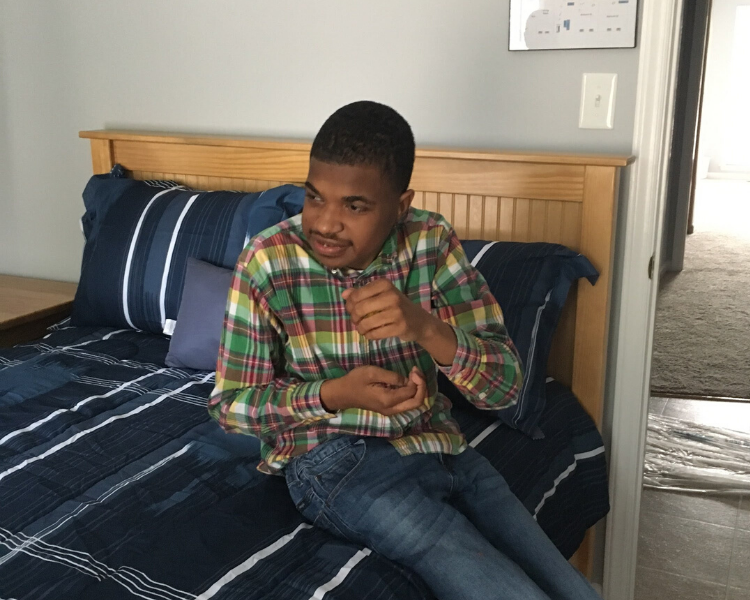 Malik Sitting on His Bed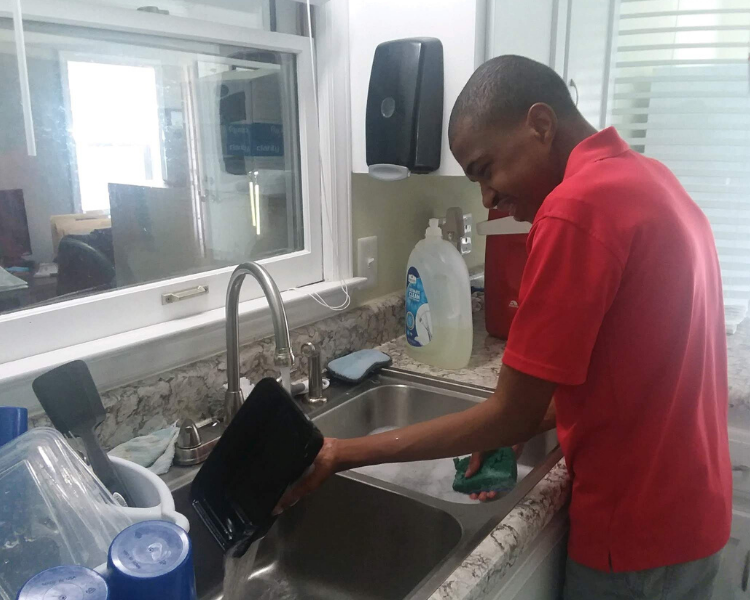 Malik Washing Dishes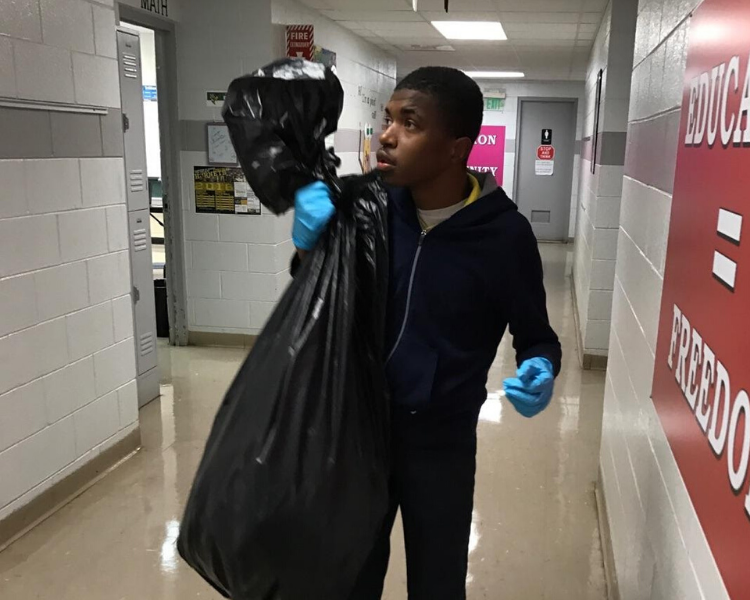 Malik Taking Out Trash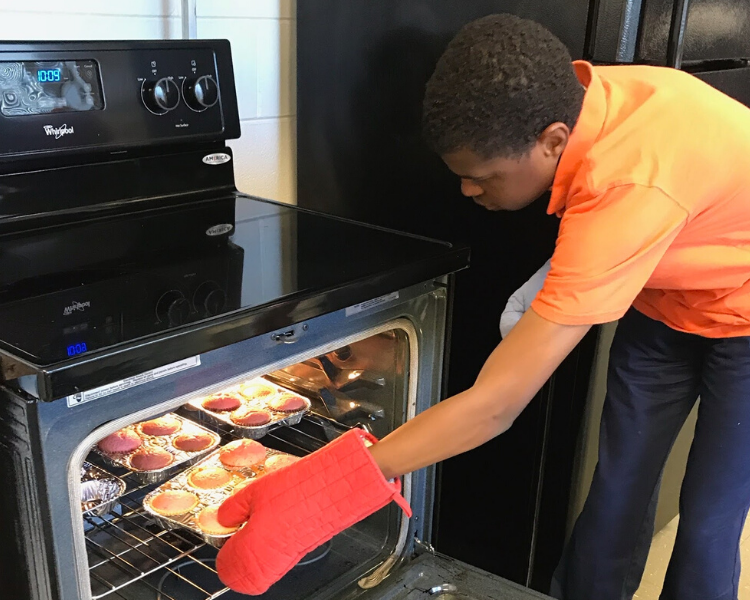 Malik Cooking
The Life He Was Meant to Live
Malik has lived on his own for the past year and a half now. He has thrived and is happy, living the life he was meant to live. A life so many of us didn't expect him to survive to see, yet alone one similar to the type of life all parents want for their children. When he comes home to visit he makes sure his suitcase stays by the door as if to say, "This visit is only temporary. I have a home." He is the king of his castle and his roommates are his friends. He is learning skills and maturing. The people that work with Malik share how much they have learned from him and love him. The house manager told me, "Working with Malik has been an interesting experience. Despite having disabilities, he is extremely intelligent and highly capable of completing everyday tasks like cooking. Malik gets what he wants and is very affectionate with staff and other clients. It's truly a joy working with him." 
The entire staff has been very receptive to learning about Malik, improving their skills and accepting input from me as a parent and professional in the field. It has become a true partnership in learning and building an environment where Malik and others can thrive. Darrin McNeil, the owner of Serenity recently told me that he is glad he took that leap of faith to open one of his homes to this population of young men, especially his buddy, Malik.
Malik has been my greatest teacher. He has opened my eyes to a world of possibilities rather than limitations. He's exceeded our expectations to live, thrive, and be independent. As I look back on Malik's life and our experiences with him, each transition has presented new challenges, trepidations, and uncertainties about the future. But it has also been a wild, exciting roller coaster ride of laughter and love like none other, as well as a journey of growth in my personal knowledge and maturity, professional career, and capacity to support others. His life story has touched lives and inspired so many on a local, national, and international level. Malik has gone from the border to the student, to the young man living on his own, making a way in HIS world.