Breaking Down Barriers to a Meaningful Adult Life
By any measure, Jason Corning has had a remarkable life. Born profoundly deaf and visually impaired, he has overcome seemingly impossible odds to become a college graduate, teacher, business owner, and passionate advocate, motivational speaker, and mentor for those in the DeafBlind community. His major life transitions—from school-age youth to college student to workplace professional—have come with many challenges. Yet along the way, Jason says he discovered that individuals with disabilities, such as those who are DeafBlind, and their families can learn to use advocacy to overcome barriers and achieve their goals.
As a child, Jason loved tinkering with computers and software, soon realizing how critical technology would be for accessing the world around him. People, on the other hand, were a bit more challenging. Like many individuals who are DeafBlind, Jason relies on support from others to do nearly everything. "Interpreters assisted me with communicating and connecting with others throughout school and now at work," he says. "Although they all come credentialed and certified, it's not the case that all interpreters are alike."
Meet Jason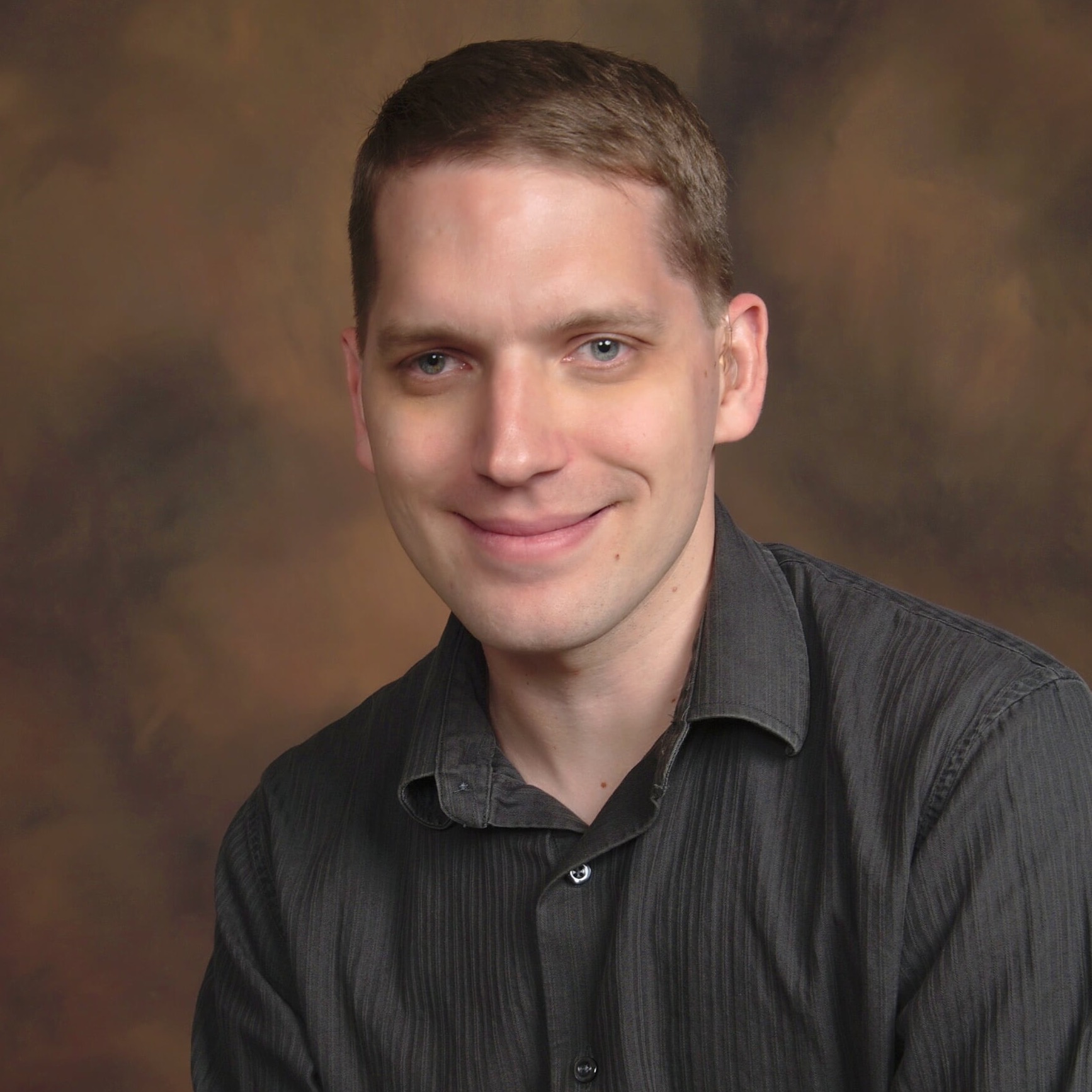 Jason Corning was born DeafBlind. He wears a cochlear implant for one ear, a hearing aid in the other, and has very limited, light-sensitive vision. Despite his disability, Jason has traveled widely, serving as a mentor, giving presentations, and raising awareness of those who are DeafBlind. Jason earned a bachelor's degree from the University of Wisconsin at Whitewater and studied abroad in Ireland. In 2007, he interned for the Department of Homeland Security, serving as a Disability Program Specialist and Section 508 Compliance Officer. He then worked for eight years as a project director for the Department of Defense. Jason recently completed a master's degree in Information Systems from Johns Hopkins University. He currently teaches American Sign Language and Introduction to DeafBlind Culture and Communication at Towson University and is the founder and CEO of Three Monkeys Communication.
Finding the Right Interpreters
"When I was in high school, they gave me an interpreter, but this person didn't have any experience working with someone who is DeafBlind, and that caused a lot of confusion and frustration," he explains. "My teacher knew something was wrong. He told my mom, 'Your son is doing great on his homework and getting As, but something's wrong in class with his communication.'" 
Jason credits his mom for stepping in to persuade school administrators that a more appropriate interpreter was crucial for his learning. "My mom has always been my biggest advocate," he says. "When they wanted to put me in a special education program rather than a regular classroom, she convinced them that it wasn't the right place for me. When I needed better interpreters, she was a huge advocate for me and made sure the school provided what I needed."
"I know that a lot of other parents [of students with disabilities] might just kind of follow what the school was telling them, but my mom was always saying 'No, you need to advocate for yourself if you feel like something's wrong. You need to speak up.' And hearing that has really been important to me."
Jason stresses that "finding the right interpreter who has experience working with a DeafBlind person is important, but so is finding someone who understands the vocabulary of the course you're taking." Likewise, when he worked for the Department of Defense after graduating from college, he had access to a number of interpreters who had received government clearance. However, "many did not have the skills needed to work with a DeafBlind person. There were a lot of communication gaps and misinterpretations during those years," he recalls.
"In situations like this, I had to begin advocating for myself like my mom had," Jason explains. "You need adequate, skilled interpreters to provide the right information because, at the end of the day, you're relying on that person to transmit information in a clear and accurate manner." Both during college and in the workplace, his efforts to get more appropriate interpreters were, for the most part, rewarded.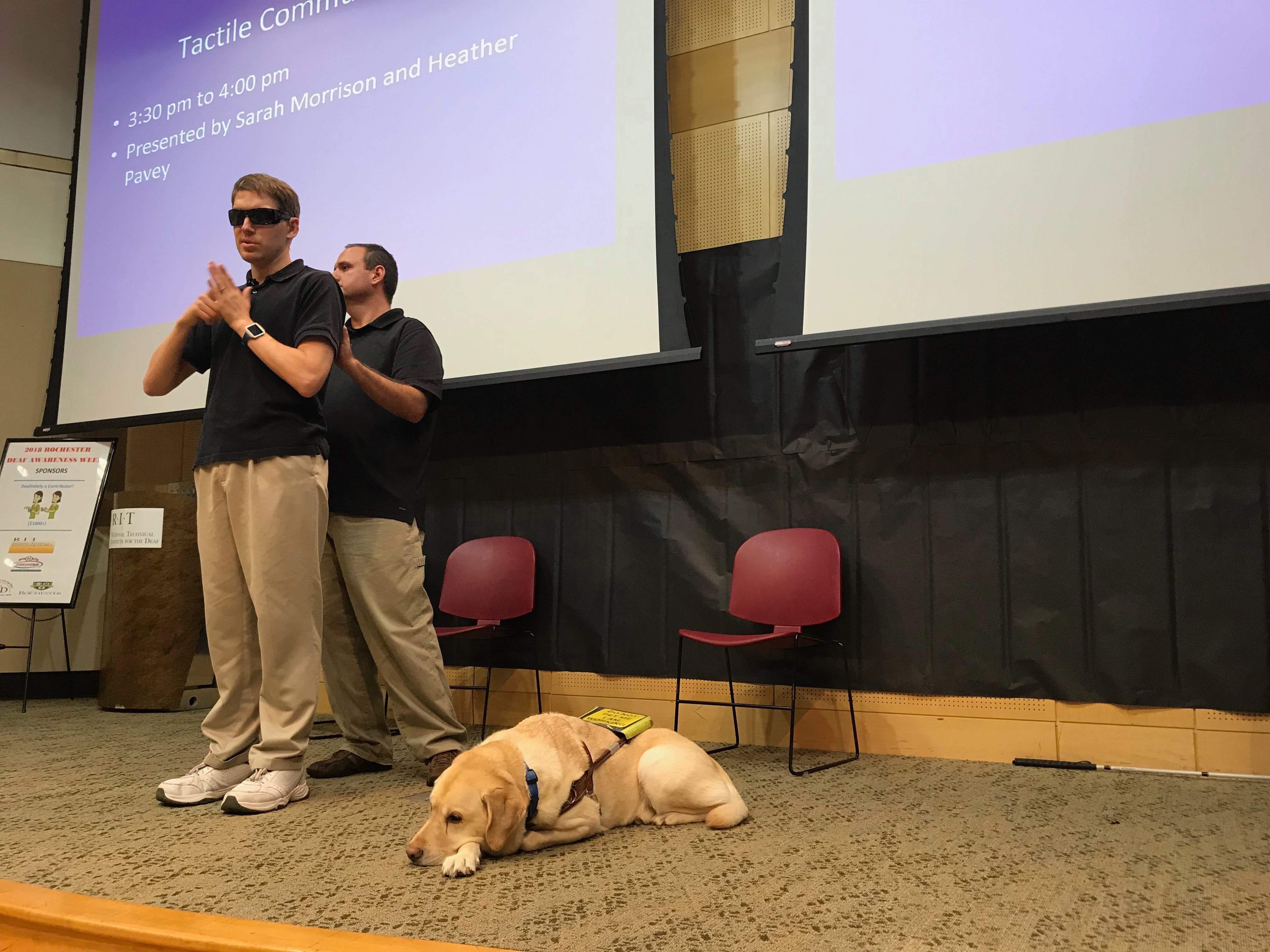 Importance of Educating Others about DeafBlindness
Jason also learned that advocating for himself sometimes involved helping others to better understand what it's like to be DeafBlind. Like many DeafBlind individuals, in order to communicate effectively with someone one-on-one, Jason must be very close to and often touching them. This closeness caused a lot of uneasiness growing up, he says. 
To illustrate, Jason recalled his experiences as a student at a school for the deaf, which he attended from kindergarten through sixth grade. "Kids sometimes thought my behavior—getting really close to your face—was disrespectful and really strange. It makes sense, though, because deaf culture values having personal space between people for signing. But I wanted to be close and actually touch people! It was embarrassing to be bullied and laughed at." 
"Eventually I realized that people just didn't understand why I needed that closeness," he says. "In college, students were more mature about it." Jason began explaining to others that because his vision was so poor, it severely limited his ability to see faces and expressions. "I told them I just needed to be a little more into their space. Once they understood that, most were comfortable with it. So that's something over the years that I've learned: You have to advocate for the space you need, explain why you need it. You need to also make sure people are comfortable, too, and give them their space when needed."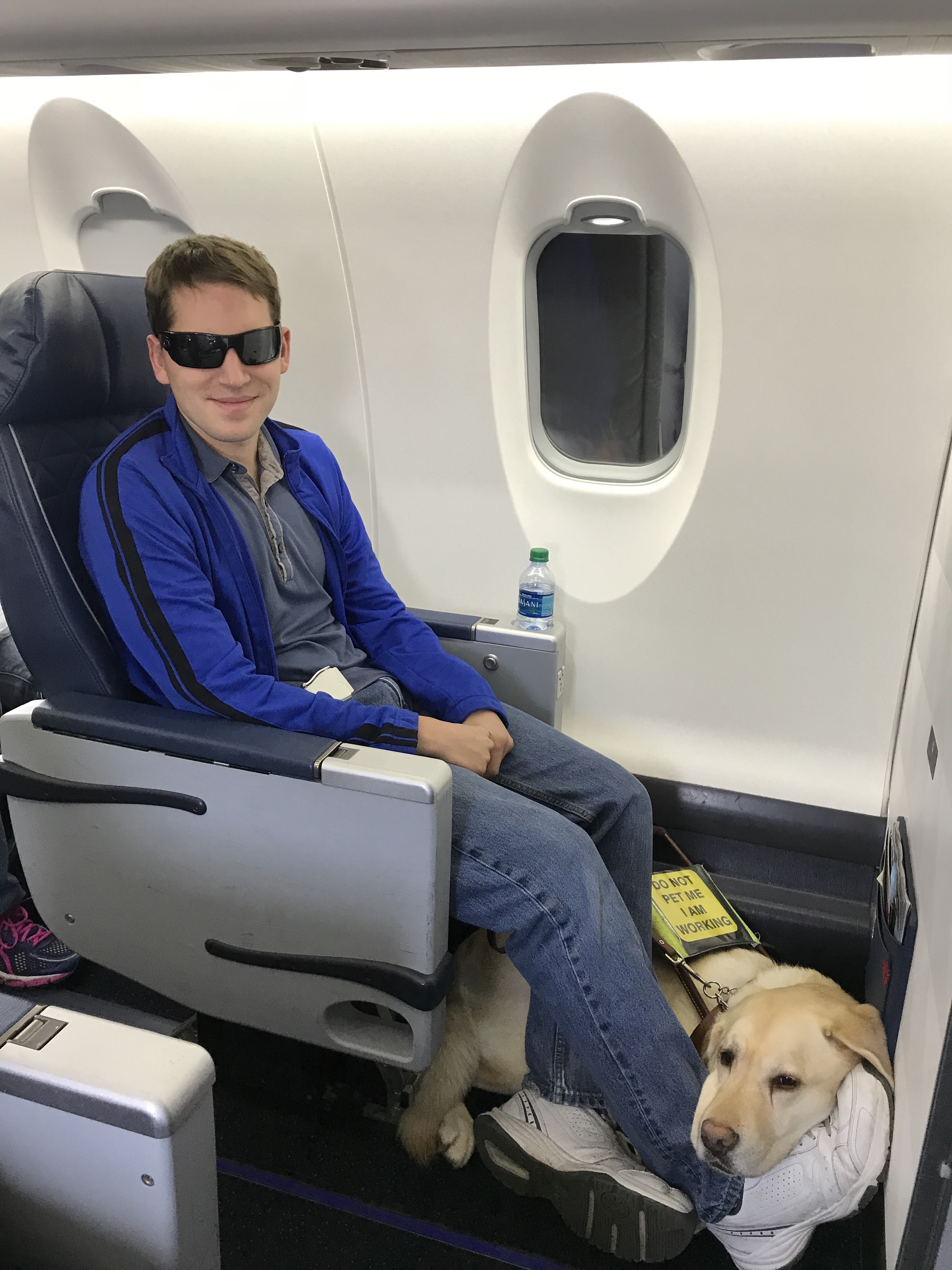 Advocating and Overcoming Barriers Today
Today as a college instructor at Towson University, Jason enjoys teaching and getting to know his students. He says he particularly values encouraging his students, especially those with disabilities, to advocate for themselves, as he has learned to do. 
"If a student comes to my office hours and says they're struggling with something, and if I know there's an accommodation like a tutor or other support available, I encourage them to ask for help. They get really excited when they connect to the right resources and feel like someone is paying attention and supporting them." 
In the classroom, Jason uses protactile signing with an interpreter, which gives him visual cues, such as environmental information about the room and the people he's talking to. But when Covid-19 hit, the distance created between him and his students posed enormous challenges. 
"My biggest barrier is with virtual access, making sure I can see the interpreter and they can see me." With online learning, he says, "it's challenging to see the students on the screen, to know if their hands are raised, to know if they're paying attention and are engaged. I've been really struggling with that." Jason says that the technology and design of distance learning today are remarkable, and the college has been very supportive. He adds, "You just have to be patient, be flexible, and ask for the support and technology you need."
Covid has impacted Jason and others who are DeafBlind in many ways. For example, he notes that wearing masks has further complicated his ability to see faces and can muffle voices, requiring him to frequently ask people to repeat themselves. "If I'm wearing gloves," he explains, "I can't really feel textures and the sensation is different. Your fingertips are not as sensitive. And, if I go to buy something in a store and everything is covered in glass, that's a big problem for me." 
Despite the barriers he's overcome and those he continues to face, Jason has become a powerful advocate for himself and for others in the DeafBlind community. And he's just getting started. In 2018, he launched a new business venture, Three Monkeys Communication, which provides presentations, training, mentoring, and consulting services to educational institutions and organizations about people who have low vision, are blind, deaf, or DeafBlind. Perhaps not surprisingly, the company's mission is a perfect reflection of what Jason has strived for his whole life; that is, to break down communication barriers for people with disabilities.